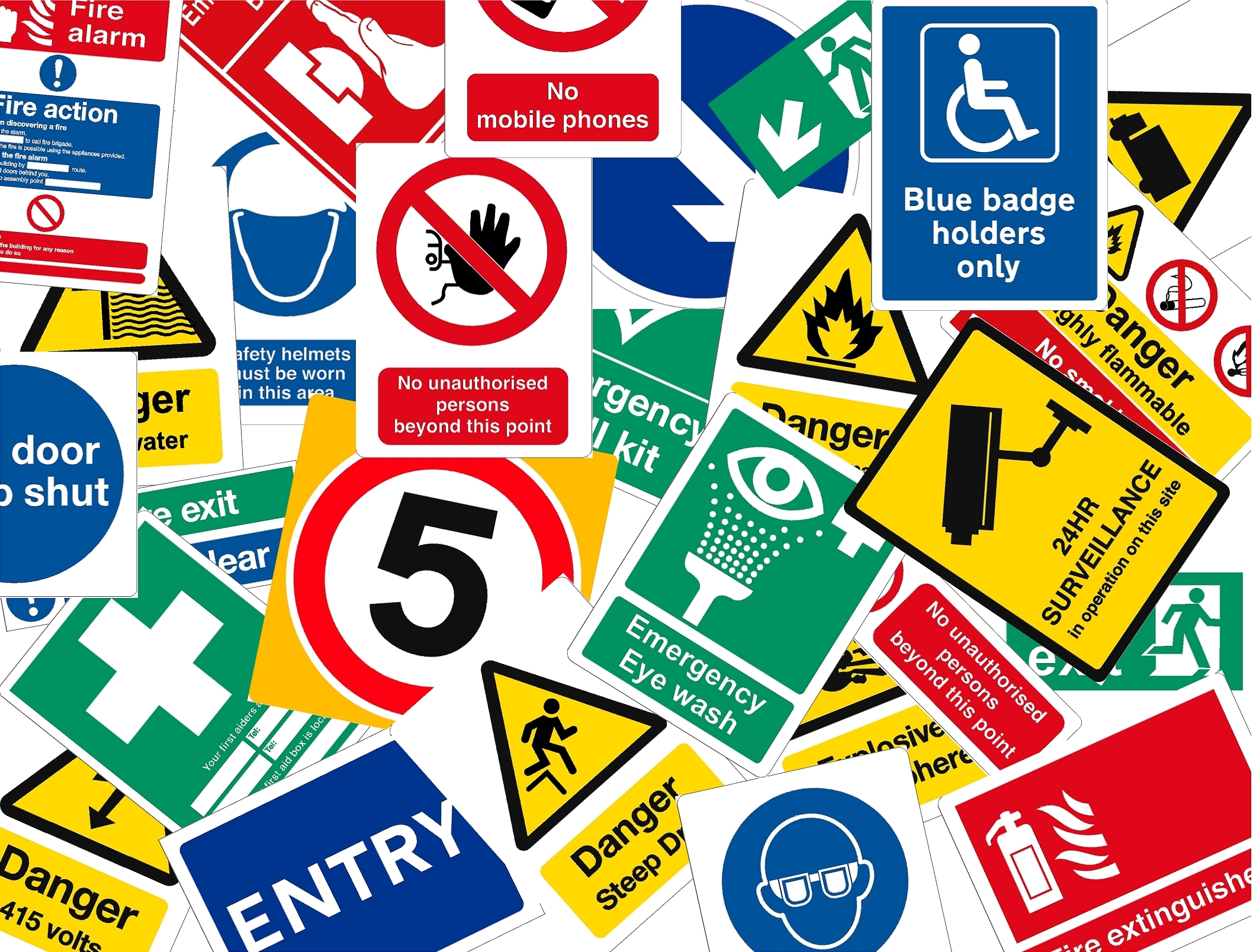 Safety Sign Supplier in Paisley
Our common signage reference guide, which includes a variety of standard layouts for a wide range of safety, workshop and public space signs, such as PPE, caution, fire and prohibition signs and much more. As well as this it also contains a range of highway layouts, ideal for signage in transport and distribution depots, fuel depots or any site where there are moving vehicles.
Our industry leading 5 year colour-fast guarantee

As one of Paisley's leading sign companies, you can rest in the knowledge that our signage will not fade thanks to our industry leading 5 year colour-fast guarantee, and in most cases the service life of our signage is over 10 years. In fact, in many cases our signs have retained their original colour and appearance for up to 20 years. All our safety signage is manufactured to the same high standard as our bespoke signage, and comes as standard manufactured in 2mm or 3mm aluminium composite (sometimes known as DiBond) with industrial overlaminate, giving incredible scuff, chemical and UV resistance. We can also produce a range of floor graphics, and any sign in the sign guide can be adapted as a floor graphic, reinforcing safety messages throughout a building or workshop
Reduced whole life costs and lower environmental footprint

Thanks to it's incredibly long life, the 'whole life' cost of our signage is significantly lower than "cheap" signs which can be bought from hardware stores and industrial supply merchants. These signs often fade over time, often just a matter of months in outdoor environments and not much longer in workshops subjected to chemicals, fumes or abrasion. As well as this, there is an environmental benefit to our products too. A cheaper product would have to be replaced as many as 8-10 times (or more), causing a large amount of single use plastic waste. Whilst our signage may have a higher initial cost, it's whole life cost is significantly lower than constantly replacing cheaper signs, not to mention the labour requirements in inspecting, procuring and fitting replacement signs.
BS EN ISO 7010

BS EN ISO 7010 is the latest standard for the layout and pictograms of safety signs, and all new buildings should have signs manufactured to this standard. We are working to update our sign guide to include the new designs and this will be released soon. There is no need to replace old signs to BS 5499 as they are still current and valid. For the avoidance of confusion, it is recommended that older buildings install signs to the same standard as the existing signs, so we will still be producing signs to both standards. Please let us know which you need at the time of ordering.
Wide range of fixing options

With over 40 years of manufacturing experience, we can design and supply a huge range of fixing systems for any environment. From standard flat panel, to floor graphics to temporary sign frames (and everything else in between) we can supply fixing solutions for any situation. If you need a fixing system which is not available 'off the shelf' we will create a bespoke solution which works for you.
The Sign Guide

The sign guide gives companies and individuals an easy way to work out which signs they require and makes it easy to order. It includes layout samples, lists the variety of fixing options and our range of standard sizes. There are literally thousands of combinations available within the guide, meaning it would be impractical to keep them all in stock, however we keep all raw materials in stock, guaranteeing a fast turnaround. As with all our signage, we also offer an installation service, or we can deliver signage direct to your site for installation by your own staff.
Within the guide there is also information on how we design combined signage, such as those seen at the entrance to many commercial depots and yards. This helps reduce the issue of your staff becoming 'sign-blind' as there is one easy to read sign which includes all the necessary information.
You can download a copy of the guide here, which includes a form at the back you can print off, fill in and return to us by email or post, or you can download a digital order form here which you can fill in on your computer and return by email. You will need Adobe Reader to view the guide and order form, available here.
Please get in touch today to find out more about our safety signs, or for a quote or more information.